ChiSquaredDistribution Class
Represents a χ2 distribution.

Inheritance Hierarchy
Namespace:
Meta.Numerics.Statistics.Distributions
Assembly:
 Meta.Numerics (in Meta.Numerics.dll) Version: 4.1.4

Syntax
The ChiSquaredDistribution type exposes the following members.

Constructors

Properties

Methods

Remarks
A chi squared distribution is an asymmetrical distribution ranging from zero to infinity with a peak near its number of degrees of freedom ν. It is a one-parameter distribution determined entirely by the parameter ν.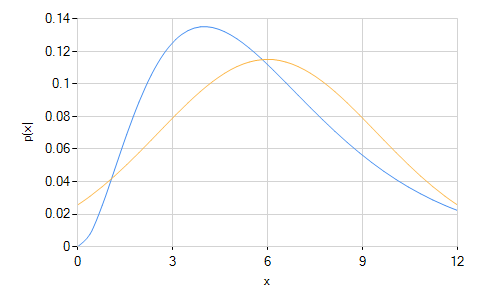 The figure above shows the χ2 distribution for ν = 6, as well as the normal distribution with equal mean and variance for reference.
The sum of the squares of ν independent standard-normal distributed variables is distributed as χ2 with ν degrees of freedom.

The χ2 distribution appears in least-squares fitting as the distribution of the sum-of-squared-deviations under the null hypothesis that the model explains the data. For example, the goodness-of-fit statistic returned by the model our model fitting methods (FitToFunction(FuncDouble, T, Double, Double), FitToLinearFunction(FuncT, Double), FitToLine, and others) follows a χ2 distribution.

See Also