ExponentialDistribution Class
Represents an exponential distribution.

Inheritance Hierarchy
Namespace:
Meta.Numerics.Statistics.Distributions
Assembly:
 Meta.Numerics (in Meta.Numerics.dll) Version: 4.1.4

Syntax
The ExponentialDistribution type exposes the following members.

Constructors

Properties

Methods

Remarks
An exponential distribution falls off exponentially in the range from zero to infinity. It is a one-parameter distribution, determined entirely by its rate of fall-off.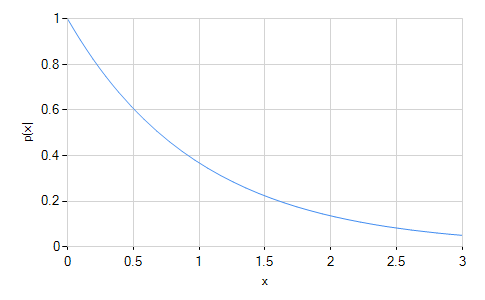 The exponential distribution describes the distribution of decay times of radioactive particles.
An exponential distribution with mean one is called a standard exponential distribution. Any exponential distribution can be converted to a standard exponential by re-parameterizing the data into "fractions of the mean," i.e. z = x / μ.

Processes resulting in events that are exponentially distributed in time are said to be "ageless" because the hazard function of the exponential distribution is constant. The Weibull distribution (WeibullDistribution) is a generalization of the exponential distribution for which the hazard function changes (usually by increasing) with time.

See Also
Reference
Other Resources